April 2023 UPDATE
Sadly all references to the EBU in the below content remain accurate and unchanged. I still await contact, have not participated as a TD or player and affiliated clubs/counties are still told I am "not in good standing" so their events will be denied an affiliation licence if I am involved.
Thank goodness affiliated bridge accounts for not more than 5% of bridge played around the globe!
July 29 2022 written and posted by Nicole Cook
Hello! An imperfect smile at bridge is not a crime.
A strong-willed kiwi woman passionate about life, love, injustice and oh yes yes yes BRIDGE!
If you want the status quo for your game – I declare myself out! Because I'm with the best people these days, helping organisers and players enjoy bridge games with scoring technology that is secure, avoids accusations that you are a cheat and removes money handling paranoias – just simple, clean easy to use results at your fingertips whenever and wherever bridge is played. Enjoy world class at yours for FREE
now.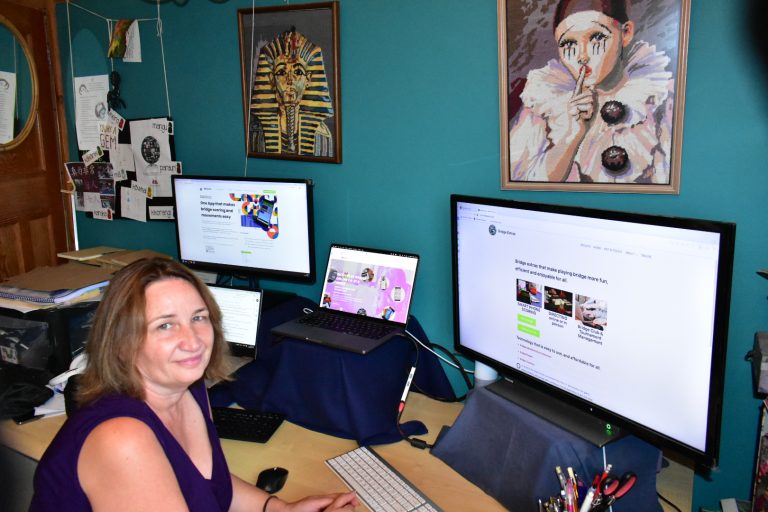 If you have ever been punished in your professional pursuits because you threaten the patriarchy just for being you, you might find resonance here. And if you know me, you will smile at the "crime" I was "convicted" of in September 2021 which pertained to a non-action, not done back in July 2020.
These days, I choose to move forward in bridge only with people who care about their people, not power.
I organise, teachand compete in places where the priority is enjoyment, opportunities for participation and success are open to all - where players can smile, laugh and be themselves at the table, be it online or wherever the future takes our wonderful, wonderful game.
It Starts with Me
My names are Nicole Cook nee Barclay (despite being divorced for more than fourteen years, I still use both surnames interchangeably due to the strange wheels of UK administration (who knew one's birth certificate is not actually proof you are who you are when you are non-native). I have been a professional bridge organiser since 2009. I was trained by Gordon Rainsford, the EBU, and the EBL to apply the laws of bridge and run bridge games. Which I have duly done fulltime since 2010.
I have organised national events, as well as English County and regular club games. I am often employed to provide events which require more technically involved scoring or bridge movements. One awesome pleasure in the game comes from my often self-subsidised trips to kibbitz, direct, deal or provide hands-on support to events in places in the world I might not otherwise visit. I had the privilege of joining the directing team in Istanbul at the 2019 European championship by dint of being in the right place at the right time (which I am told by two very senior EBL TDs that that is how they both got started on fine long careers in high level directing).
I worked for two years to produce and introduce a gender neutral version of the 2017 WBF Laws of Bridge. In 2019 it was approved by the WBF. It is now available as a searchable on mobile document via the IBEScore App electronic bridge scorer.
In March 2020, I was "assessed" and advised that it was on the cards that come that August, it was the intention to promote me to become an EBU National Director. I'd become only the second ever woman to reach this position I believe. There was a rather strange caveat though – that there not be single negative communication about me. A rather tall ask in the highly subjective bridge environment where people in roles of influence and authority often come under fire. And then came Covid – no EBU tournaments took place. Instead we worked day and night as a pretty tight team to give players a place to keep playing bridge. It was very much the blind leading the blind. But none the less, despite operating daily knowing that I must not do anything wrong if I wanted to continue my career to bridge directing fame and glory, I managed to piss off the one person who knew the promotion caveat – more fool me for telling him! And he had an idea – he bullied, abused and changed the rules just for me until he determined sufficient cause to lodge a complaint to my former bridge partner and a current client of ours. That neither of them stood up for me, nor against the might of the patriarchy, nor for the good of the game itself became my story.
I was suspended from the national bridge organisation of England during the period October 2021 – April 2022.
Actually I cannot speak to my case. It all happened without me. I am a kiwi, I'm not an Aussie and my language skills do not stretch to kangaroo. As such, I am not familiar with the contents of the report and thank a lawyer and our pa for the time each took to sift through hundreds of emails that had been filtered on arrival by my wonderful IT expert mate (this helped me keep some sanity through this emotionally devastating and traumatic time) so that I have something to share with you now in my story.
I am amused by what I was actually suspended for. It in no way resembles what was published for the world to see. The salient bit is:
Naively I assumed that common sense would kick in at some stage and someone would say – this is Nicole, we know her, we trust her to run our events, you mentored her for goodness sake!, and we are waiting to promote her to be our National Director. Even more naively I thought it served no-one's interest to lose an experienced, competent person or a supply relationship that had been nurtured over 15 years. I genuinely thought that someone would just pick up the phone and offer/cajole/bully me into sorting out whatever had gone wrong. I waited every day for 18 months for a call that never came.
Instead, not only did someone successfully convince folk in the EBU community that I was no longer useful, qualified or competent, they then systemically attempted to remove my existence from the game in England and throughout the world. Sadly, they did not stop there.
Instead, I woke one morning to discover every bridge player's terror had become my reality – the EBU had created an news item citing the accusation without the findings, very odd! for a public website quoting both my names in headline – oh yes they made sure there could be no mistaking who I was!
Luckily I made the mistake of visiting the website and saw the item because that morning two things happened almost immediately. I was unceremoniously dropped by a non-affiliated charity group, leaving them high and dry at short notice. This year they are desperately short of TDs again I hear tell. More on such later. Secondly, a newly developing co-operation partnership gave me a right bollocking for not telling them myself, such that they had to find out via the website (a slightly impossible ask my but heyho, when you've been put in the bin it makes more space for others if someone stomps you down further!). They then informed me they would be suspending me from their own website too, in line with what they had done to a self-confessed cheat.
One very outraged gentleman felt the news item was justification to avoid a 300GBP bill he had racked up playing over a 12 month period!
But as that autumn day progressed, I received a steady stream of phone calls, emails and messages of support. All concern was for my welfare and mental health. The term public vendetta was born, coined by a wonderful couple who know people are the heart of our game – they put on fantastic bridge games. I am grateful to the EBU in one regard – each contact over that time was a beautiful touch base with bridge friends who pre-pandemic were my regular supply of hugs and smiles at tournaments. Those who know me, know I wear my heart on my sleeve and my smile is only lost when I'm on the war path to a player, or if you approach me at game start time with questions! Some of the messages had "EBU" "off" and" rocker" in them. Others contained "usual" and "nonsense". One fabulous guy made me laugh and laugh. We hadn't spoken for some time and he simply texted: So in other news…. and went on to share his health scare dramas. It sets the tone for my story's continuation.
大家好 I am learning Mandarin
What started in 2018 as an idea to visit China for a big 0 birthday trip, as well as add an extra skill to my directing toolbelt and further my ambitions to run world bridge events, actually turned out to be a super fun pastime. As an English speaker first language speaker, learning Mandarin is tricky. But it suits my brain well. Characters, pin yin and tones create brilliant puzzles for me to solve and I work best when there is lots going on.
I'm studying Portuguese too. It's been a great honour and privilege to join the Madeira folk for their Festival annually for the past few years, so I thought to give something back and try to learn their language – if for no other reason than to better chat with my friend from Porto Santo at breakfast. The festival is a wonderful tournament. Everyone should go – for certain sure they know how the heart thing! Sadly, I won't be there this year. But I wish everyone a brilliant time – have a poncha for me and hug please – it will probably be allowed again this year!
New skills
IBE Ltd is formed
And in even cooler news
We started a company!
What began as a means for five suddenly out of work TDs to stay sane and out of the red by helping players keep playing bridge, turned into a viable business proposition somewhere along the line. Lockdown gave us breathing space to get our heads together to turn our combined experience of around 200 years into a business solution for bridge organisers. We realised we had the knowledge, and after 10 months sitting at our desks 12 hours a day 7 days a week, we also gained the technology experience to remove all the headaches from bridge organisation.
International Bridge Excellence Ltd was born on the 1 December 2020 with the mission to provide simple accessible technology solutions for all the extras of any organised bridge, anywhere in the world.
Our client base consists of bridge organisers who want to give their players an enjoyable game, and are happy for us to take care of everything headache making 😊
In 2020 and 2021 we worked online every day, as a tag team providing groups of players bridge games within their communities morning, noon or nightly.
This year we are slowly entering the card holding market – as the online games are reducing, we are supporting games played holding cards in venues. IBEScore was launched in the Apple store in July 2022. And is also available at Google Play. We are super proud of this smart phone scoring solution. It is low cost and easy to self-learn. We can even help out during sessions even though we are far away. Yes. Now there is a technology solution which brings bridge into the 21st century.
We haven't yet delved into running our own events in venues. That is on the cards. In the meantime, we are focussed on making sure that bridge communities have affordable access to technology for scoring when they play at their preferred venue. And unfettered access when they want to play online together as a group.
Life sounds great right?
Absolutely. My health is improving – turns out when you do not have to run all over the place to direct bridge events you have time to do regular things locally. I have joined a health club and started taking swimming lessons – which was rather fortuitous given all the 2022 hot weather.
Except.
It's Not Over
Sometimes I wish I had never heard of the game of bridge. Certainly, my friends and family wish I never got involved with the EBU. It is next to impossible to explain to non-bridge people why so much drama and angst is required to play a game.
The google link is still there.
It is challenging trying to explain to potential, existing and even former clients why they receive communications such as these below. Organisers, who just want a headache-free event and expect to be able to trust their administrative body.
"Sorry, I had to unhire you to deal those 500 boards because I was told in no uncertain terms not to give work to Nicole"
re October 2022
June 2022
In the next instance my loss became an opportunity for two good friends.
But I feel for us all. It is the most tragic thing about how directing has changed. In the early days of my EBU directing career there was an unwritten code never to accept an event without checking who had been the previous TD and communicating directly with them. As much as anything it was due diligence to understand the dynamics of the event challenges before agreeing to it. That doesn't happen anymore. It has become the wild west where the sheriff appoints his cowboy mates!
Some Light Relief
Sometimes I get the feeling that for the folk of bridge administration being a woman, with skills, passion and energy is not befitting to the game.
You might even think – oly eck – doesn't she know yet when she's not wanted?
Check these out.
A very senior European TD insisted that I must smile less and be much more serious when I direct. I was not to speak to players.
A now deceased County Chairman took me to lunch on official County business and asked me if I wouldn't mind finding a husband so I would fit in better at bridge, while he was hitting on me I might add. I had the joy to have to listen to this telling off: "…it is inappropriate for you to play with a man and smile at him. Imagine what his wife would say!"
At an EBL director training course that I self-funded to attend, while sitting having a pleasant drink with the assembled attendees and trainers, the English assessor told the group this: "Nicole always has inappropriate relationships with men" Deep joy just ahead of a final exam right?
I have lost count of the number of comments regarding the merits and shortfalls of my hairstyles and shoes (long, down with heels good, up and flats very bad) and attires (skirts the shorter the better, trousers tight tolerable nothing more).
My favourite vileness was the day I was asked to direct wearing my black stiletto boots to "keep the players to time" as there was an after function deadline to attend. And that was at the start of my directing career with the affiliated bridge in England. I really should have cottoned on back then shouldn't I?
Sur "thrive"al
So yes, I have history with these guys. They are not nice and they don't care about me. Or their customers.
But I am nice and I do care, very much.
I care about all the fantastic people and want to pay a tribute to all the folk who have picked up the slack – former directors are coming out of retirement to look after events, clubs left without managers desperate for a simpler life, groups who have cancelled their games rather than look for another director. I won't name them here to protect the innocent. But they are the life support system to our game at this time.
I care to apologise to all the organisers who feel they can no longer work with me – whether it is out of fear wrath, or a belief that the administration has best interests in mind – you are the unwitting victims in all this.
I care about my life partner, colleagues, family and friends who continue to get beaten down every time another missive is reeled off, copied to all and sundry and eventually reaches our eyes drawing everyone into my pain all over again.
And I care about me. My colleagues, clients, suppliers, neighbours, students, family and friends know and respect me, but the current information mismatch with google does the game and me a total disservice. So I'm telling my story to give another option to future clients, suppliers and friends who will google me.
I'm putting my heart back into my life. And back into bridge. I believe the game's heartbeat will be stronger because I am alive.
I refuse to stop smiling. Without a doubt I will continue to bring my passion energy and commitment to working hard for my clients to everything I do. I am proud to unsuitable for miserable, boring events. It means I can put all my heart into delivering enjoyable fair bridge games for everyone on the planet.
Because it is not a crime to play bridge.