It took just a few hours to fall in love all over again with this wonderful land and its friendly, generous people.

Enjoy our time in The Gambia from December 2013/January 2014 in pictures by clicking on the tabs above or links below
Things to do in The Gambia
Sunbathe all day
Drink freshly hand squeezed fruit juice on the beach
Enjoy a delicious plate of fresh cut fruit delivered to your sun lounger
Talk to everyone you meet, find a local you like and trust, then ask them to show you their town
Take a trip with Mandou to Reggae night at Dominos in Kotu
Wander to Sunshine Bar in Cape Point
Dance to the band at Doobidoo in Bakau
Organise a personalised trip to Makasutu - again Mandou or Solomon are the experts or ask at Sunshine Bar
Get a boat and go fishing
Ride a horse on the beach
Walk to the Crocodile pool - then visit Calypso Bar at Cape Point to get up close and personal with the non-vegetarian crocodiles
Drink cocktails
Drink JulBrew
Eat Gambian dishes often
Join in the fun when the bands turn the road into the dance floor at Happy Corner
Get the who and what's hot to do by asking other guests around your hotel - there will be people who know people - word of mouth is king! Gambians are very friendly - in The Gambia tourists can be friendly to each other too!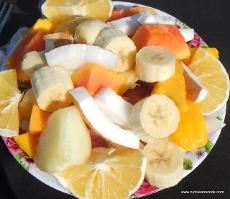 Want to visit The Gambia?
What about combining it and play some Bridge in Africa?
Next trip planned for New Year sunshine - 30th December-6 January 2017
Play or Learn - beginners and experienced players most welcome
Contact Nicole to find out more.
A bridge trip in The Gambia promises days of sun and fun, and nights of dancing, organised bridge with masterpoints and prizes. You will make wonderful new friends and experience life as you might otherwise never know in the heart of West Africa.