Ekincik - Olu Deniz, Turkey
4 friends from 3 countries took to the water for the first time together - one sailor skippered three novices to a week of magnificent fun and adventure at sea. Our photos show where we went and what we experienced. We had the time of our lives in this amazing and brilliant spot in the world - thank you to everyone we met for your help and good humour.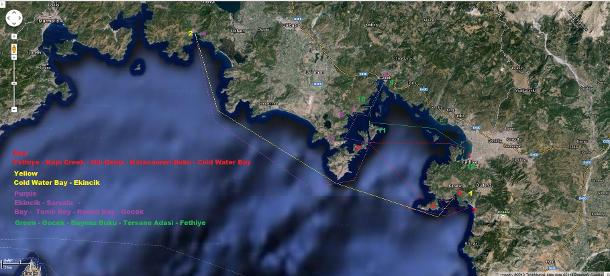 Our week by day*
Day 1: Fethiye - Kapi Creek
Day 2: Kapi Creek - Olu Deniz - Karacaroen Buku
Day 3: Karacaroen Buku - Coldwater Bay
Day 4: Coldwater Bay - Ekincik
Day 5: Ekincik - Sarsala
Day 6: Sarsala - Tomb Bay - Round Bay - Gocek
Day 7: Gocek - Fethiye
*NB: The coloured lines and outline give a general overview of the route we travelled as a guideline only.